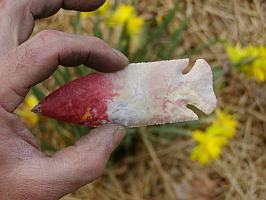 We're here to help you!
Start chipping today with our custom tool kits, help articles, DVD's, books and all things knapping. We are #1 in service, quality and price with the fastest shipping times to get you knapping NOW! We have developed this site to help knappers of all skill levels by providing them with knapping tools, Ishi sticks, Moose antler billets, diamond scribes, diamond grinding bits, diamond files, abraders, leather pads, copper nails, kits, instructional books, DVD's and flintknapping materials just to mention a few.

We have several articles with helpful tips, as well as knapping terminology, platform construction, trouble shooting and an in depth look at tool definition & usage, events listings, and much more!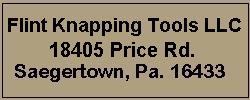 Our human resources are stretched, if you need to speak to us,
please email us your number and the best time to call!